Hannes Baumann (PI)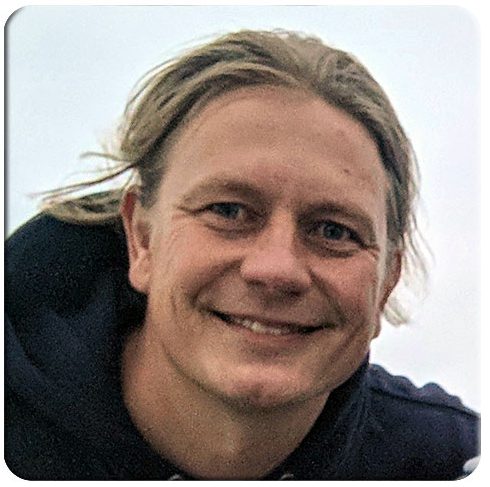 Hannes Baumann started the 'Evolutionary Fish Ecology' Lab in September 2014 to expand ecological and evolutionary frontiers via experimental, field, and modeling work. His work focuses on the central question, how coastal marine organisms will cope with the simultaneous changes in their environment caused by global and regional human activity, and how they are already adapted to environmental variability in e.g. temperature, oxygen, or pH.
Local field work includes maintaining deployed sensors, frequent collections with plankton nets and beach seines, in addition to laboratory rearing of fish, physiological measurements, and otolith microstructure analysis – all of which can incorporate the help of interested and ambitious undergraduate students searching for hands-on experience and own projects.
Current grants:
2018 – Therkildsen, N. and Baumann, H. Collaborative research: The genomic underpinnings of local adaptation despite gene flow along a coastal environmental cline. NSF-OCE #1756316 ($325,388 3 years)
2018 – Wiley, D., Kaufman, L., Baumann, H. and Llopiz, J. Productivity and ecology of sand habitats. Bureau of Ocean Energy Management (BOEM), interagency agreement with DOC/NOAA/OAR ($1,050,000 3 years)
2016 – Baumann, H., Wiley, D. Kaufman, L., Valentine, P., and Gallager, S. Sensitivity of larval and juvenile sand lance Ammodytes dubius on Stellwagen Bank to predicted ocean warming, acidification, and deoxygenation. Northeast Regional SeaGrant Consortium ($198,393 2 years)
2016 – Dam, H., Baumann, H., Finiguerra, M., and Pespeni, M. Collaborative Research: Transgenerational phenotypic and genomic responses of marine copepods to the interactive effects of temperature and CO2. NSF-OCE #1550180 ($609,684 3 years)
2016 – Baumann, H. and Nye, J. Collaborative research: Understanding the effects of acidification and hypoxia within and across generations in a coastal marine fish. NSF Project# 1536336 ($829,035 3 years)
2016 – Dam, H., Finiguerra, M., and Baumann, H. Predicting the performance of the copepod Acartia tonsa under future conditions of temperature and CO2. Connecticut Sea Grant College Program ($149,969 2 years).
2016 – Baumann, H. and Rader, L. Lifting a treasure: Full digitization of Project Oceanology's 40+ years of coastal research data in Long Island Sound. Connecticut Sea Grant Project# PD-15-14 ($5,000).
Publications | Courses | Marine Science Department | Google Scholar | CV | Collaborators & Co-authors | Publons Reviewer Profile
---
Emma Cross (Post-doctoral researcher)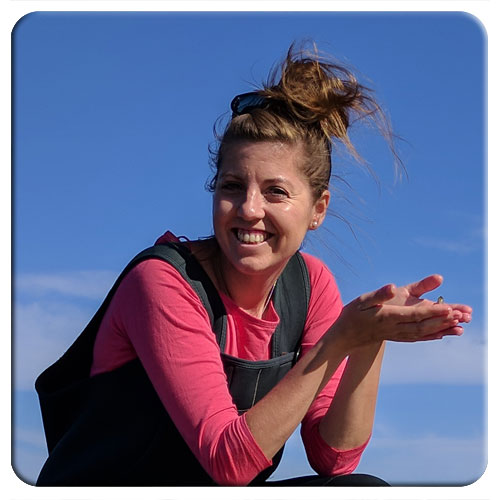 Emma Cross joined our team in September 2017, after receiving her PhD from Cambridge University, UK, in August 2016. Her previous work focused on the CO2-sensitivity of polar and temperate brachiopods, a group of ancient, sessile calcifiers that build large shells but are unrelated to mollusks. In addition to experimental approaches, she examined historical collections of specimens from New Zealand. Her findings suggest that brachiopods can cope with acidifying oceans by compensating for increased shell dissolution by increased shell thickness. Emma now transitions to working with fish, particularly Atlantic silversides, testing how fluctuating pH and oxygen environments typical of nearshore environments affect early life survival and growth.
---
Three recent publications of Emma
:
---
[ocean acidification, hypoxia, Atlantic silverside, nearshore pH and oxygen fluctuations, transgenerational effects, climate change]
emma.cross@uconn.edu
|
Emma Cross publications
---
Callie Concannon (MS student)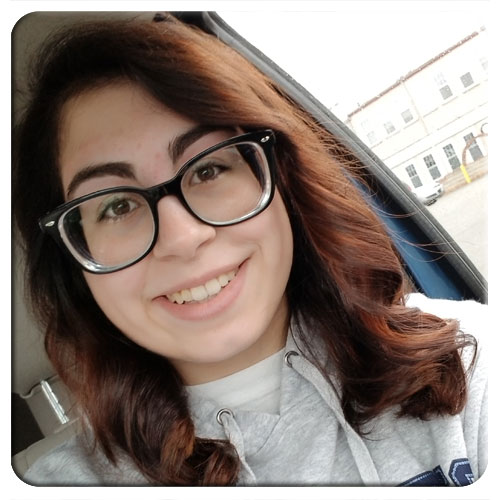 Callie Concannon
started in fall 2018 as a master student in the Baumann lab after getting an excellent bachelors degree from the University of Massachusetts in Dartmouth. She is going to use otolith microstructure analysis in juvenile silversides to contribute individual-based data to our
NSF project
aiming to elucidate the genomic underpinnings of local adaptation in the Atlantic Silverside. Welcome, Callie!
---
[Atlantic silverside, local adaptation, climate change]
callie.concannon@uconn.edu
---
Lucas Jones (MS student)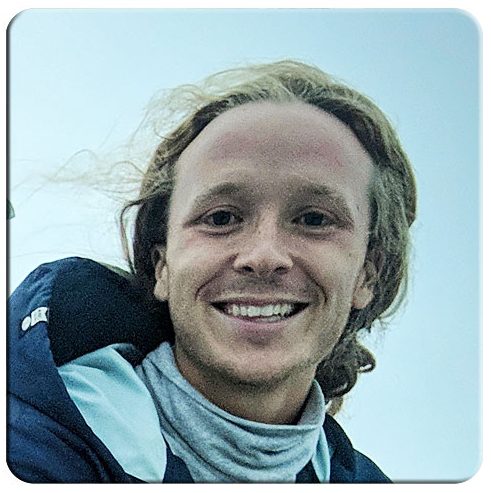 Lucas Jones
will start in summer 2019 as a master student in the Baumann lab after getting his bachelors degree from the University of Connecticut. Lucas started out as a volunteer in our lab 2017 and because of his dedication and experimental talent quickly became an indispensable asset to our scientific operations. He will now continue to leverage his familiarity with our rearing system to further investigate the climate sensitivity and population characteristics of Northern sand lance (Ammodytes dubius), an important winter-spawning forage fish in the Gulf of Maine. Welcome, Lucas!
---
[Northern sand lance, population dynamics, climate change]
lucas.jones@uconn.edu
---
Deanna Elliott (NSF REU student)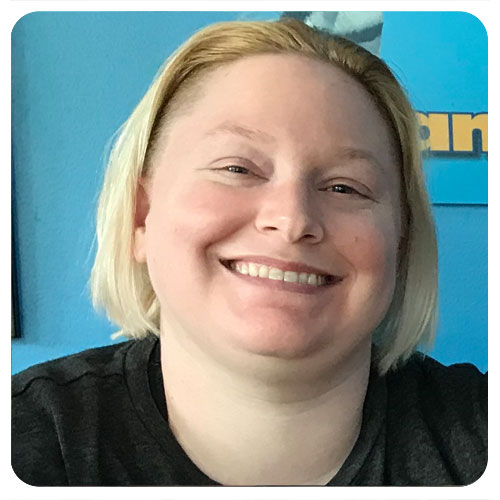 Deanna Elliott
is a junior at Arizona State University who has joined the Baumann lab in summer 2019 as our third NSF-REU student. Deanna has experimented with locusts before, but now strives to become an expert fish rearer. Her project will rear Atlantic silverside larvae under different feeding regimes to create fish of different body sizes and then analyze the these fish for trace levels of mercury in their tissue. She will test the hypothesis that mercury concentrations in fish can be used as a proxy for ingestion rates, which are important to trophic ecosystem models to perform better. Welcome, Deanna!
---
[Atlantic silverside, Menidia menidia, mercury, ingestion rates]
dbellio2@asu.edu
---
Undergraduate volunteers, summer students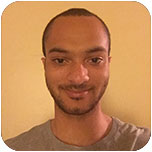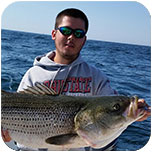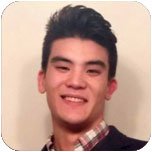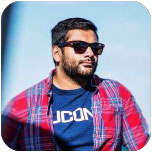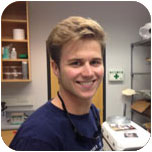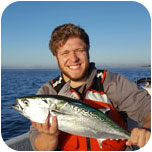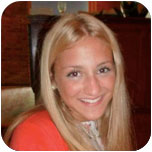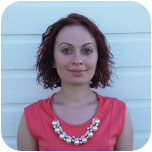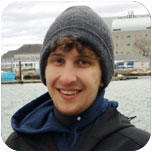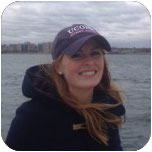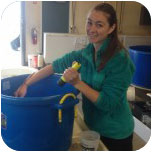 ---