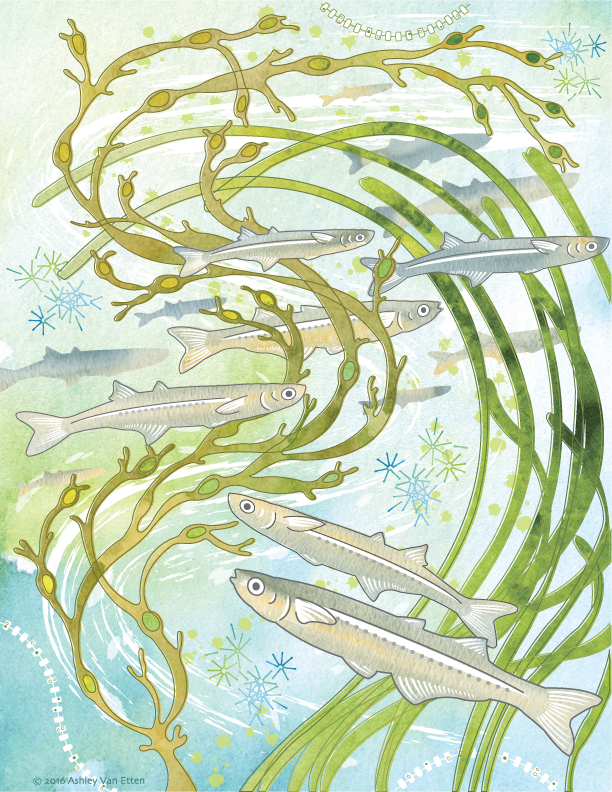 On 5-9 November 2017, the Baumann lab attended the 24th Biennial Conference of the Coastal and Estuarine Research Foundation (CERF) in Providence, RI. The conference is a unique blend of academic and conservation science and comprises an ideal venue for students to present their thesis research to a broad national and international audience. Best of all this year: the conference logo featured a beautiful piece of art depicting an underwater scene with our most beloved, famous fish, the Atlantic silverside. Big shout out to
Ashley van Etten and her inspiring artwork!
Together with Steve Litvin (Monterey Bay Aquarium) Hannes convened a theme session titled "Physiological ecology in the Anthropocene: linking the laboratory and field" and talked about our recently published paper on pH and oxygen fluctuations in nearshore coastal environments. Jake presented his Master thesis research on the newly digitized long-term time series of Project Oceanology, and Julie talked about the first aspect of her ongoing research on silverside otoliths and inferred patterns of growth and temperature-dependent sex determination. Well done, all!
---
Baumann H.

and Smith, E.M. 2017. Quantifying the covariance of pH and oxygen conditions across the diversity of US nearshore habitats.
Pringle, J.W. and

Baumann H.

2017. Sex-specific growth and mortality patterns in juvenile Atlantic silversides (Menidia menidia) from Connecticut waters.
DeMayo, J.A., Park, G., Norton, L., Huffman, W., Finiguerra, M.,

Baumann H.

, and Dam, H.G. 2017. Combined effects of warming and acidification on life-history traits of the calanoid copepod Acartia tonsa.
Snyder, J.T. and

Baumann H.

2017. A newly digitized 45-year dataset of environmental and biological observations from Long Island Sound.
---