21 November 2019
. We are excited to announce the
Chris Murray
's paper on the unusual, high sensitivity of early life Northern sand lance to acidification and warming has just been published in the journal of Conservation Physiology! This is the first publication of our extensive work on this enigmatic species.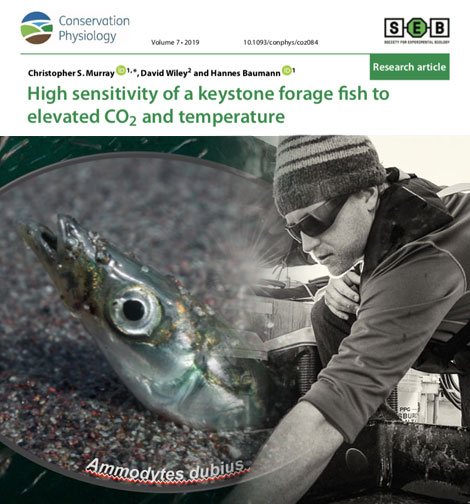 Sand lance species play a key ecological role in most temperate to polar shelf ecosystems of the northern hemisphere, but they have remained unstudied with respect to their sensitivity to predicted future CO
2
levels in the ocean. For the past three years (2016 – 2018), we have sampled and spawned with northern sand lance (
Ammodytes dubius
) from
Stellwagen Bank National Marine Sanctuary
and subsequently reared their embryos under factorial CO
2
x temperature conditions to hatch and early larval stages. Our results were striking, in all years, high CO
2
conditions severely reduced embryo survival up to 20-fold over controls, with strong synergistic reductions under combined high CO
2
and temperature conditions. High CO
2
also delayed hatching, reduced remaining endogenous energy reserves at hatch, and in combination with higher temperatures, reduced embryonic growth.
Indeed, given the observed effect sizes, northern sand lance might be the most CO2 sensitive fish species tested to date.
---