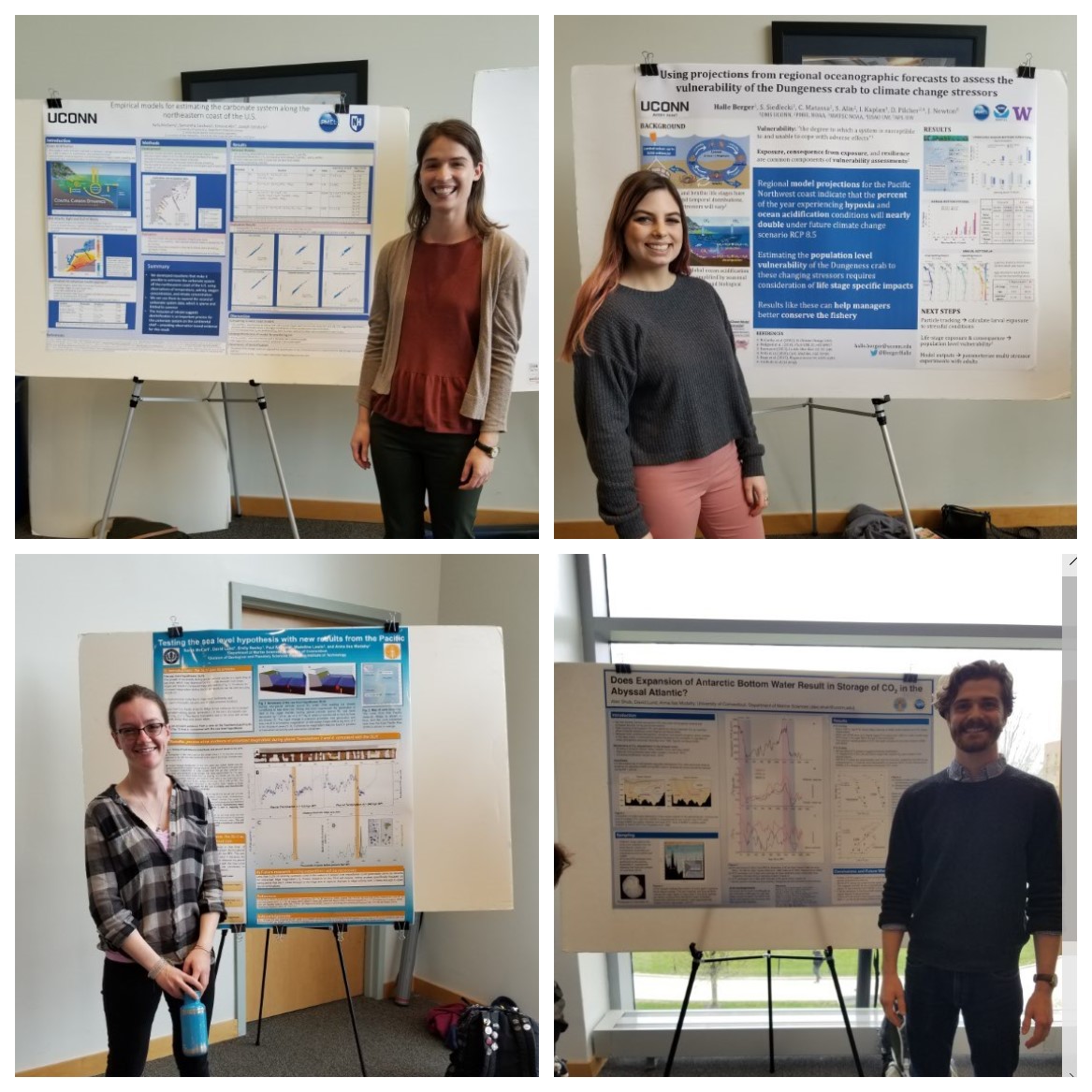 By
Callie Concannon
. On
April 30th
, four graduate students from the Marine Science Department traveled to UConn, Storrs to present their research at
UConn's 2nd Climate Research Symposium
cohosted by the Geology and Marine Science departments. The students were Kelly McGarry (Ph.D student; top left), Halle Berger (Master's student; top right), Sarah McCart (Master's student; bottom left) and Alec Shub (Master's student; bottom right). Everyone's presentations were well received, and Sarah McCart even won the graduate student poster competition!
The event featured two keynote speakers; Professor Margaret Rubega of UConn, and Professor Tim Cronin of MIT. Professor Rubega talked about science communication and how the scientific community could better communicate their climate change research to non-scientists without using overbearing jargon and too many words. Professor Cronin gave a speech on his past research on the suppression of Arctic air formation with climate warming.
---
McCart, S., Lund, D., Seeley, E., Asimov, P., Lewis, M., and Mudahy, A.L. Testing the sea level hypothesis with new results from the Pacific.
McGarry, K., Siedlecki, S., Alin, S., and Salisbury, J. Empirical models for estimating the carbonate system along the northeastern coast of the U.S.
Berger, H., Siedlecki, S., Matassa, C., Alin, S., Kaplan, I., Pilcher, D., and Newton, J. Using projections from regional oceanographic forecasts to assess the vulnerability of the Dungeness crab to climate change stressors.
Shub, A., Lund, D., and Mudahy, A.L., Does expansion of Antarctic bottom water result in storage of CO2 in the abyssal Atlantic?
---