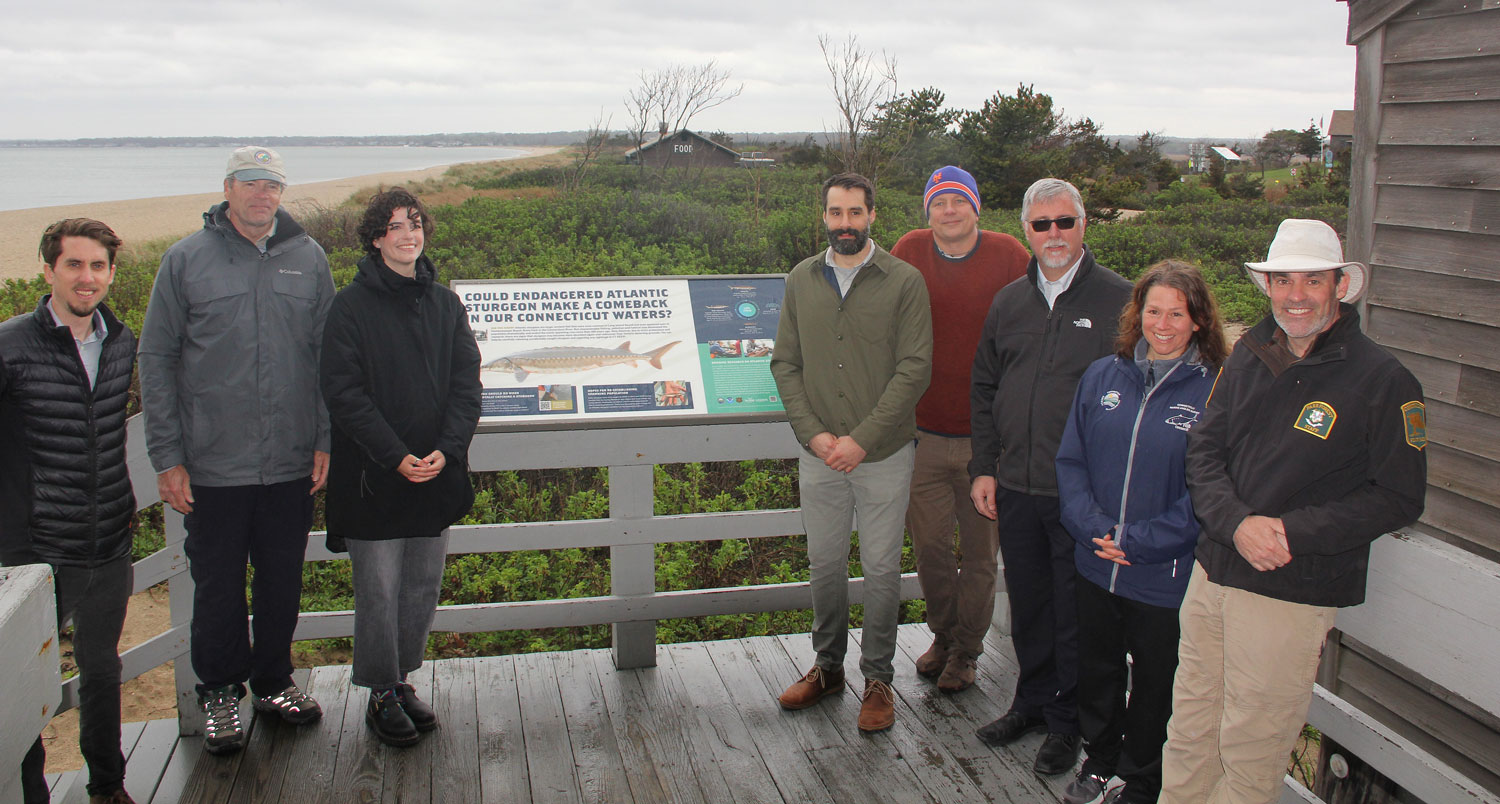 May 7th, 2022. Despite the chilly, rainy weather on Hammonassett Park's Meigs Point and the resultant lack of a beach crowd, the mood among the group was elated and proud. For over two years, our lab together with researchers from the Connecticut Department of Energy and Environmental Protection (CTDEEP, Tom Savoy, Jacque Benway) have worked tirelessly to better understand the growth and seasonal movement patterns of Atlantic Sturgeon (Acipenser oxyrhynchus) in Long Island Sound and the Connecticut River. The research project was funded by Connecticut SeaGrant (NOAA Award NA18OAR4170081, Project R/LR-29).
Kelli Mosca did her M.S. thesis research using fin spine sections for growth analyses and telemetry data for movement patterns. After defending in March 2022, she immediately accepted an offer by CTDEEP to become a full time staff scientist. Congrats again, Kelli!
The sign was designed by Joe Cunningham with pictures from Jacob Snyder (RedSkiesPhotography.com). It combines several outreach goals. 1) Convey to people that these ancient, iconic fish actually occur in our waters, 2) teach the interested readers that sturgeon spawn in freshwater and then grow up in saltwater, 3) give readers a sense of the ongoing research on Atlantic sturgeon, 4) tell the public that sturgeon may come back to Long Island Sound and River, but need protection. Particularly, they rely on any accidental catches to be released and reported. The sign is also available in Spanish language to broaden its reach.