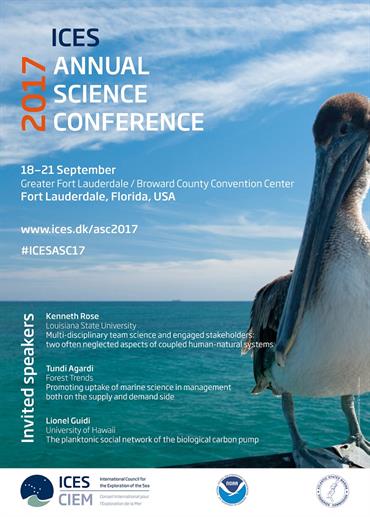 On 19-21 September 2017, Chris Murray and Hannes Baumann traveled to Fort Lauderdale, Florida, to attend the ICES (International Council for the Exploration of the Sea) Annual Science Conference in order to present our ongoing NSF and NOAA funded research on potential ocean acidification effects in Atlantic Silversides and Northern Sand lance. Due to Hurricane Irma, which had impacted all of Florida just a week earlier, it was a great relief that the conference could actually be successfully held.
Together with Chris Chambers (NOAA), Ian Bradbury (DFO, Canada), and Richard McBride (NOAA), Hannes convened a theme session titled "Patterns, sources, and consequences of intraspecific variation in responses of marine fauna to environmental stressors".
Chris gave a talk and a poster during this session, which was well received and thus a worthwhile exposure for Chris and our lab's research.
---
Murray, C. S. and

Baumann H.

2017. Growth costs of high CO2 environments in a marine fish: importance of feeding methodology. Talk.
Murray, C. S., Wiley, D., and

Baumann H.

2017. A preliminary study testing the effects of high CO2 on the early life stages of the northern sand lance Ammodytes dubius. Poster.